Good Morning, Patriot:
The Hoosier Patriots Monday Morning Newswire for July 4, 2016 is attached for your review. Feel free to forward it to your lists or copy to those who would be interested in the commentary. Enjoy this issue, have a great week, and celebrate TODAY - Independence Day #240!
We are ALL in this together...
God Bless America!
Jim Bratten
Director, Hoosier Patriots

"If ever a time should come, when vain and aspiring men shall possess the highest seats in Government, our country will stand in need of its experienced patriots to prevent its ruin." ~ Samuel Adams, 1776
Agenda 2: Masters of Deceit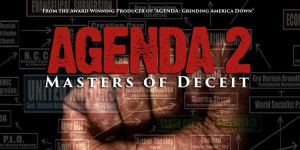 Curtis Bowers released his film, Agenda, in 2010 and Vanderburgh County Tea Party Patriots screened it in late 2011 as a wake-up call to our members. The film was well received and grassroots America began to connect the dots as to what was being done to their country.
As filmmaker Bowers spoke to people around the nation since, he found American citizens were being overwhelmed by the sheer number of crises and issues bombarding them.
The blatant promotion and embrace of Islam; the steady propaganda drumbeat of "man-made climate change"; the subjugation of our school-age children under the massive indoctrination vehicle known as Common Core; the centralized control of 1/6 of the nation's economy under the oppression of a government-run health insurance scam called Obamacare; the rapid increase of crushing regulation on business and banking; the manufactured economic crisis and unsustainable debt; the subversion and manipulation of faith communities to house and assist in the acceptance of massive increases in illegal alien invaders; etc., etc. And through the dismemberment of our culture, America is being Balkanized.
Much longer is the list of the burdens imposed upon Americans by an oppressive government administration, assisted by legislative enablers, and given a pass by a subverted court system. Dozens of enemies of our republic are at work within her, with many devious agendas.
Bowers exposes them, their intentions for the destruction of our republic, their progress thus far, and what we need to do about it while we can. The Masters of Deceit have engineered premeditated, treasonous attacks on our freedom and sovereign nation… the evil empire didn't really disband. They simply dispersed and distributed themselves throughout the West, particularly within the major political parties in the U.S.
Vanderburgh County Tea Party Patriots will screen Agenda 2: Masters of Deceit on May 28, 2016 at the Evansville Public Library, Oaklyn Branch, at 1:30 p.m., free and open to the public.
"The issue is never the issue. The issue is always the revolution."
Vanderburgh County Tea Party Patriots will hold its April membership meeting at the Evansville Public Library, Oaklyn Branch, 3001 Oaklyn Drive, Evansville, on Saturday, April 23, 2016 at 1:00 p.m.
This meeting will feature the film, The Free Speech Apocalypse, directed by Darren Doane (also made Collision and Unstoppable).
A 95-minute documentary that highlights our cultural decay, The Free Speech Apocalypse clearly demonstrates the erosion of free speech and religious liberty in America, exhibited dramatically by an April 13, 2012 confrontation between IU students and Pastor Douglas Wilson (who was invited to lecture on traditional marriage and family) at the University of Indiana, Bloomington. Discussion of the points raised in the film, and what citizens can do in response, will follow the showing.
The Free Speech Apocalypse exposes the strategies of the anti-God, anti-traditional, hyper-liberal elite and offers perspective on the cultural decay that has accelerated over the three years since Wilson's visit to Indiana University.
Worst yet, The Free Speech Apocalypse demonstrates clearly the erosion of free speech and religious liberty in America. The right to hold your own opinions is vanishing at an alarming rate, and it's time for ordinary Americans to wake up and speak out.
This Saturday, March 19, Vanderburgh
​
C
​ounty
T
​ea ​
P
​arty ​
P
​atriots​
is holding its March membership meeting as a Candidates Meet & Greet for the upcoming May 3 primary elections for public office. The Candidates Meet & Greet will take place at the Evansville Public Library, Central Branch, 200 SE Martin Luther King, Jr. Blvd., in Browning Room B at 1:00 p.m. Each candidate will have 10 minutes to introduce themselves and about the same time for questions and answers. Come to get to know the candidates better, why they seek public office and where they stand on issues. Make your vote count! This event is free and open to the public.