Good Morning, Patriot:
The Hoosier Patriots Monday Morning Newswire for October 23, 2017 is attached for your review. Feel free to forward it to your lists or copy those who would be interested. Enjoy this issue and have a great week!
We are ALL in this together...
God Bless America!
Jim Bratten
Director, Hoosier Patriots
"If ever a time should come, when vain and aspiring men shall possess the highest seats in Government, our country will stand in need of its experienced patriots to prevent its ruin." ~ Samuel Adams, 1776
Patriots:
Vanderburgh County Tea Party Patriots will host State Senator Jim Tomes in a casual give-and-take forum on the good and bad of the 2017 legislative session just completed and what we can expect to face in the upcoming 2018 session.
Join in an open discussion of what is going on in YOUR state house. Ask questions and get answers; pose suggestions; get a better understanding of how the legislative process works and what you can do to have an impact as a Hoosier voter to protect your liberties. Find out more about specific bills and their impact.
The open forum with State Senator Tomes will take place at the Evansville Public Library, Central Branch, 200 SE Martin Luther King, Jr. Blvd., Evansville on Saturday, May 20, 2017 in Browning Room B, from 10am to Noon.
This forum is free and open to the public.
Patriots:
VC-TPP will hold its November meeting on Saturday, 11/19/16, at the Evansville Public Library, Central Branch, in Browning Room B at 2:00 p.m.
We will show the new film from
CFACT,
Climate Hustle.
"Are they trying to control the climate... or YOU?"
World Net Daily said, "Could be the most important movie of the year."
National Review said it was "Brutal and extremely funny."
Conservative columnist Cal Thomas described it as "tremendous" and Breitbart News declared it was "Dynamite!"
If you want bold facts that completely disarm the climate change hype, this is the source. It exposes it all; very well done and entertaining on top of that.
Here are the details, so you can tell others - particularly parents with children who have been indoctrinated in the government school system with this devious, faux "fear."
"Scorching temperatures. Melting ice caps. Killer hurricanes and tornadoes. The end of civilization as we know it! Are emissions from our cars, factories, and farms causing catastrophic climate change? Or is man-made "global warming" an overheated environmental con job?"
"Climate Hustle answers these questions, and many more. Hosted by award-winning investigative journalist Marc Morano, this ground-breaking film leads viewers on a fact-finding and often hilarious journey through the propaganda-laced world of 'climate change' claims. It exposes the myth of the 97% 'scientific consensus,' debunks hype about temperature and extreme weather, and introduces viewers to key scientists who have reversed their views and converted to skepticism."
The film is not rated, runs 78 minutes and is suitable for children in mid-to-upper grades.
After the film, we can discuss its contents and talk about the election results and what we can expect.
This will be the last VC-TPP meeting for 2016, since we pause for the Christmas and New Year holidays. As usual, this event is free and open to the general public. See you there!
Vanderburgh County Tea Party Patriots will hold its next membership meeting on Saturday, October 22, 2016 at the Evansville Public Library, Central Branch, in Browning Room B at 2:00 p.m.
It has been 2 years from start to finish to gather the research and complete this film for release before this crucial election.
The Enemies Within
lays out the clear case of how 80 Congressmen and 20 Senators could not pass an FBI security check if they were to actually apply for a government job. Also explained is how the Red/Green Axis works together to undermine our national security.
This film pulls no punches and names names! There has not been a more hard-hitting, truth-telling documentary ever to hit the market that identifies those bent on subverting our republic and "transforming" America into something unrecognizable to our Founders.
There are very few that have the proper narrative of what is happening in our country. Enemies Within frames that narrative, exposes the agenda of the Left, and identifies the players.
This event is free and open to the public.
Vanderburgh County Tea Party Patriots (VC-TPP) will hold its September membership meeting on Saturday, September 10, 2016 at the Evansville Public Library, Central Branch, in Browning Room B, at 2:00 p.m. (Please note time change - 1 hour later than customary!)
This meeting will feature the showing of
No Choice (How HUD Controls Your Property Rights),
hosted by John Anthony and produced by the
Sustainable Freedom Lab
, 2016. This new release deals with the "redistribution" of your property rights and uncovers the details of the most deliberate attack on property rights and society in America's history. This is more of President Obama's social engineering... on steroids.
HUD's power grab under the new "Affirmatively Furthering Fair Housing" Act (AFFH) is so massive, most find it hard to comprehend. No Choice breaks it down and explains how HUD destroys local government and annihilates individual property rights. All while the agency denies it is happening!
No Choice unravels the tricks HUD uses to disarm local officials and homeowners. Gather the knowledge to recognize what HUD is up to. Evansville and Vanderburgh County already accept HUD money from the federal government, so they've bought the rope... see what comes next.
See you on September 10th!
Agenda 2: Masters of Deceit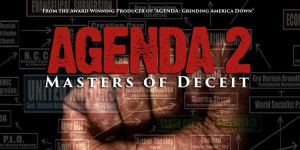 Curtis Bowers released his film, Agenda, in 2010 and Vanderburgh County Tea Party Patriots screened it in late 2011 as a wake-up call to our members. The film was well received and grassroots America began to connect the dots as to what was being done to their country.
As filmmaker Bowers spoke to people around the nation since, he found American citizens were being overwhelmed by the sheer number of crises and issues bombarding them.
The blatant promotion and embrace of Islam; the steady propaganda drumbeat of "man-made climate change"; the subjugation of our school-age children under the massive indoctrination vehicle known as Common Core; the centralized control of 1/6 of the nation's economy under the oppression of a government-run health insurance scam called Obamacare; the rapid increase of crushing regulation on business and banking; the manufactured economic crisis and unsustainable debt; the subversion and manipulation of faith communities to house and assist in the acceptance of massive increases in illegal alien invaders; etc., etc. And through the dismemberment of our culture, America is being Balkanized.
Much longer is the list of the burdens imposed upon Americans by an oppressive government administration, assisted by legislative enablers, and given a pass by a subverted court system. Dozens of enemies of our republic are at work within her, with many devious agendas.
Bowers exposes them, their intentions for the destruction of our republic, their progress thus far, and what we need to do about it while we can. The Masters of Deceit have engineered premeditated, treasonous attacks on our freedom and sovereign nation… the evil empire didn't really disband. They simply dispersed and distributed themselves throughout the West, particularly within the major political parties in the U.S.
Vanderburgh County Tea Party Patriots will screen Agenda 2: Masters of Deceit on May 28, 2016 at the Evansville Public Library, Oaklyn Branch, at 1:30 p.m., free and open to the public.
"The issue is never the issue. The issue is always the revolution."