Agenda 2: Masters of Deceit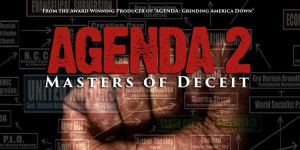 Curtis Bowers released his film, Agenda, in 2010 and Vanderburgh County Tea Party Patriots screened it in late 2011 as a wake-up call to our members. The film was well received and grassroots America began to connect the dots as to what was being done to their country.
As filmmaker Bowers spoke to people around the nation since, he found American citizens were being overwhelmed by the sheer number of crises and issues bombarding them.
The blatant promotion and embrace of Islam; the steady propaganda drumbeat of "man-made climate change"; the subjugation of our school-age children under the massive indoctrination vehicle known as Common Core; the centralized control of 1/6 of the nation's economy under the oppression of a government-run health insurance scam called Obamacare; the rapid increase of crushing regulation on business and banking; the manufactured economic crisis and unsustainable debt; the subversion and manipulation of faith communities to house and assist in the acceptance of massive increases in illegal alien invaders; etc., etc. And through the dismemberment of our culture, America is being Balkanized.
Much longer is the list of the burdens imposed upon Americans by an oppressive government administration, assisted by legislative enablers, and given a pass by a subverted court system. Dozens of enemies of our republic are at work within her, with many devious agendas.
Bowers exposes them, their intentions for the destruction of our republic, their progress thus far, and what we need to do about it while we can. The Masters of Deceit have engineered premeditated, treasonous attacks on our freedom and sovereign nation… the evil empire didn't really disband. They simply dispersed and distributed themselves throughout the West, particularly within the major political parties in the U.S.
Vanderburgh County Tea Party Patriots will screen Agenda 2: Masters of Deceit on May 28, 2016 at the Evansville Public Library, Oaklyn Branch, at 1:30 p.m., free and open to the public.
"The issue is never the issue. The issue is always the revolution."